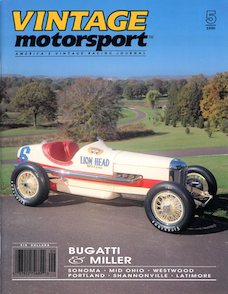 Vintage Motorsport Magazine
1990.5 Sept/Oct 1990
Regular price
$10.00
$0.00
Unit price
per
LANCIA
a vignette on Lancia's sports racing cars of the fifties.
---
BUGATTI & MILLER
An overview on differences and similarities.
---
MILLER 91
A cut-a-way illustration reveals the genius of Harry Miller.
---
BUGATTI GRACE

Exploring the evolution of graceful GP design.
---
LION HEAD SPECIAL
A meticulously restored Miller Indy car.

---
OFF THE FENCE

John Burgess' illustrated window to the past.
---
BUGATTI T-37A
A classic example of the marque.

---
AUTOMOTIVE ART
England's renowned painter - Michael Turner.

---
EVENTS
Sonoma
Mid-Ohio
Westwood
Portland
Shannonville 
---