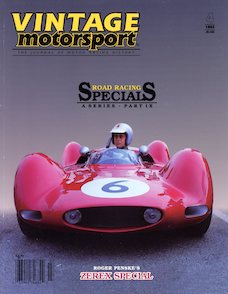 Vintage Motorsport Magazine
1993.4 July/Aug 1993
Regular price
$10.00
$0.00
Unit price
per
ROAD RACING SPECIALS
The Series - Part IX.
---
SCARAB-BUICK
Reventlow steps up to the rear-engined revolution.
---
CHAPARRAL I
The cornerstone of a dynasty.
---
ZEREX SPECIAL

Roger Penske and the original Unfair Advantage.
---
LOTUS 19
Tempest in a teapot.

---
COOPER & ME
Bob Akin profiles his 1959 Cooper Monaco.
---
A TALE OF TWO ALLARDS
A reunion of two heavyweights with their creator.

---
RETURN OF THE COMET
A coming-out party for a unique Special.
---
VINTAGE EVENT COVERAGE:
Sebring - HSR
Walter Mitty - HSR
Spring Fling - SVRA
Savannah

---