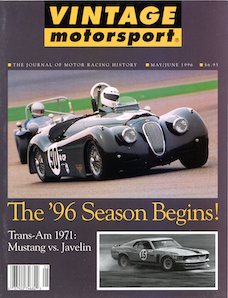 Vintage Motorsport Magazine
1996.3 May/June 1996
Regular price
$10.00
$0.00
Unit price
per
BONNEVILLE NATIONAL SPEED TRIALS
Mark Dees explains the historic side of Bonneville's ongoing quest for speed.
---
TRANS-AM 1971
Part Six: Penske and AMC have the only factory team left, but Bud Moore keeps it honest. In the 2.5 Challenge, Datsun zeroes in on Alfa Romeo.
---
LE MANS 1954
With new weaponry readied and storms brewing on the horizon, Jaguar and Ferrari grid themselves for a classic 24-hour battle; Cunningham, Bristol, and Aston Martin are more than ready to inherit the spoils should the main warriors knock each other out. A feature from the Klemantaski Collection.
---
SHERWOOD JOHNSTON
From Giant's despair to Le Mans, Pete Lyons paints a portrait of the gentleman driver, American style.
---
VINTAGE EVENT COVERAGE:
Phoenix - VARA
Daytona - HSR
Moroso - SVRA

---