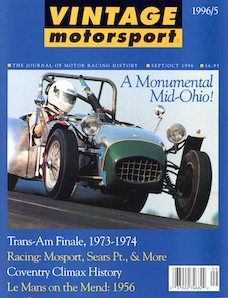 Vintage Motorsport Magazine
1996.5 Sept/Oct 1996
Regular price
$10.00
$0.00
Unit price
per
A FAST FREE SPIRIT
Bob Drake lived (and drove) by his own set of rules.
---
TRANS-AM 1973 - 1974
Part Eight: Our Trans-Am examination wraps up as the once-proud series winds down.
---
LE MANS 1956
Le Mans' effort to reinvent itself after tragedy finds a touch of success.
---
BUILDING TO A CLIMAX
BS Levy examines the Coventry Climax FWA's impact on the sport.
---
VINTAGE EVENT COVERAGE:
Mosport
Mid-Ohio
New England Tour
Road America
Sears Point
---