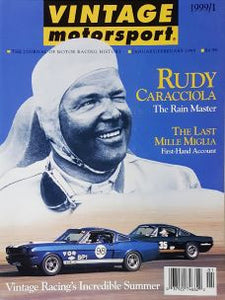 Vintage Motorsport Magazine
1999.1 Jan/Feb 1999
Regular price
$10.00
$0.00
Unit price
per
DER REGENMEISTER
"To race is to live. All the rest is simply waiting." Rudi Caracciola
---
THE 24TH AND LAST MILLE MIGLIA—1957
A thousand hard miles in an MGA.
---
SALON: 1911 E-M-F "30" STOCK CHASSIS RACER
A stock chassis racer that held its own and then some during racing's early days.
---
YOU CAN GO BACK AGAIN
A day in the life of the village of Watkins Glen, where it all began.
---
GOODWOOD REVIVAL
Fifty years after the circuit's creation, great racing is back at Goodwood.
---
Vintage Event Coverage:
SVRA Watkins Glen
IEI Double 50
Millers at Milwaukee
VSCDA Elkhart Lake
CSRG Sears Point

---