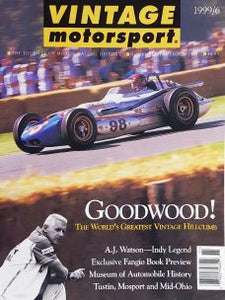 Vintage Motorsport Magazine
1999.6 Nov/Dec 1999
Regular price
$10.00
$0.00
Unit price
per
MOTOR RACING GRAND MASTER
An exclusive excerpt from Karl Ludvigsen's new book on Juan Manuel Fangio.
MUSEUM OF AUTOMOBILE HISTORY
There's more cool car stuff than you can ever imagine at Uncle Walter's Attic.
A.J. WATSON
From 1959 to 1964, winning at Indy required the genius of racing's "other" A.J. and a Watson roadster.
SALON: NARDI-DANESE ALFA
Turin's tuning specialist built very few cars, but this onefor Count Trossiwas one of the finest.
GOODWOOD FESTIVAL OF SPEED
Record-breaking crowds join historic racing's luminaries for the sights, sounds and smells of a glorious hillclimb.
Vintage Event Coverage:
SVRA Mid-Ohio
SOVREN Seattle
Pittsburgh Vintage Grand Prix
VARAC Vintage Festival at Mosport
HAMC Millers at Milwaukee
VARA Tustin Thunder
---