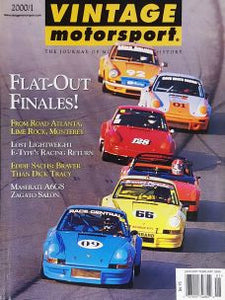 Vintage Motorsport Magazine
2000.1 Jan/Feb 2000
Regular price
$10.00
$0.00
Unit price
per
EDDIE SACHS: BRAVER THAN DICK TRACY
Devoid of any racing skills in a sport bristling with macho men, he admitted to being scared silly, yet he excelled at widow-making tracks like Langhorne, Lakewood, Dayton, Fort Wayne and Winchester. And no matter what anyone thinks, he should have won the Indy 500 at least once.
---
THE CAT THAT STRAYED
Gone but not forgotten, Jaguar Lightweight E-type #S850660 languished in a garage for 35 years before being rediscovered.
---
SALON: THAT ZAGATO MYSTIQUE
One of 20 Zagato-bodied Maserati A6G/54 coupes, #2122's primary key to sucess lies with that Carrozzeria.
---
ON WITH THE FESTIVITIES!
Before the Monterey Historics, the place to be is Gordon and Molly McCall's "tailgate party."
---
SILVER ANNIVERSARY
The Monterey Historic Automobile Races reach a milestone.
---
VINTAGE EVENT COVERAGE:
Pebble Beach Concours d'Elegance
VSCCA Dodge Vintage Festival at Lime Rock
SVRA Watkins Glen
VSCDA BRIC at Road America
HSR Road Atlanta
NVRG Zupan's Historics at Portland
---