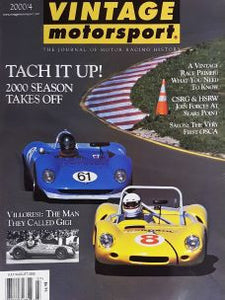 Vintage Motorsport Magazine
2000.4 July/Aug 2000
Regular price
$10.00
$0.00
Unit price
per
OUT OF THE SHADOWS
Although names like Nuvolari, Carracciola, Fangio and Ascari come sooner to mind, Luigi "Gigi" Villoresi deserves a mention when racing greats are discussed.
---
LEARNING HOW TO COLLECT
The Collier Automotive Museum hosts a four-day symposium entitled "Connoisseurship of the Sporting Car."
---
CHOOSING THE PROPER PATHWAY TO PERDITION
Have a desire to go vintage racing? B.S. Levy gives you plenty to think about in his vintage racing primer.
---
SALON: THE VERY FIRST ONE
Built in 1948, OSCA #1101 not only launched a car company, it helped establish the very definition of a sports car.
---
STILL WET BEHIND THE GEARS
In just six short years, the Amelia Island Concours has become one of the "must-do" events on the vintage scene.
---
VINTAGE EVENT COVERAGE:
SVRA Savannah
HSR Sebring Endurance Challenge
VARA Las Vegas
HSR 12 Hours of Sebring
CSRG Sears Point

---