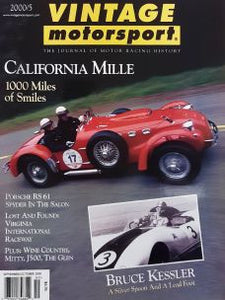 Vintage Motorsport Magazine
2000.5 Sept/Oct 2000
Regular price
$10.00
$0.00
Unit price
per
AND QUIET FLOWS THE DAN UNTIL IT REACHES VIR
Virginia International Raceway suffered throught a rocky history before it closed its gates, but today its history is being rewritten.
---
A SILVER SPOON AND A LEAD FOOT
Bruce Kessler hung out with the right crowdthe ones with gasoline in their veins and fast sports racing cars in the garage.
---
SALON: FROZEN IN TIME
A Tortoise that regularly beat the hares, Porsche's RS 61 Type 718 is rare and beautiful.
---
BAKING BY THE BAY
Record heat makes 'em sweat, but doesn't dampen enthusiasm for vintage racing at this year's running of the Wine Country Classic at Sears Point.
---
FORMULA FOR SUCCESS
Brian Redman's 9th Annual Jefferson 500 at Summit Point is a tradition finding favor with many.
---
VINTAGE EVENT COVERAGE:
HSR Walter Mitty
VBRA Race At The Base
California Mille
HSR Watkins Glen
VDCA VIR

---