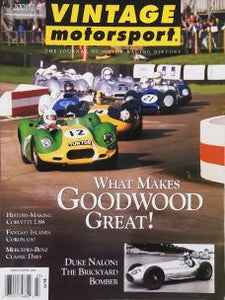 Vintage Motorsport Magazine
2001.2 Mar/Apr 2001
Regular price
$10.00
$0.00
Unit price
per
DUKE AND THE NOVI
"Iron" Duke Nalon drove a variety of race cars during a stellar 22-year career, but he is most associated with the legendary Novi.
---
SIMPLY THE BEST SHOW ON EARTH
The Goodwood Revival Meeting is the world's most authentic vintage race.
---
SALON: NOT FOR THE STREET
With 500-plus horsepower, the ultra-rare 1967 L88 Corvette Sunray DX could talk the talk and walk the walk in production road racing.
---
BILL DEVIN: A TRUE ENTHUSIAST
In the many articles written over the years about Bill Devin, he was described as charming, talkative, naive, charasmatic, a tinkerer, engaging, likeable, intelligent, a sharpie, driven, a promoter, affable, casual, an entrepreneur, a raconteur. Now that Bill's gone, add another adjectivelegendary.
---
VINTAGE EVENT COVERAGE:
GRL Coronado
HSR Savannah Historic Races
HSR Road Atlanta
Mercedes-Benz Classic Days
VSCCA Vintage Celebration
Castle Hill Concours

---