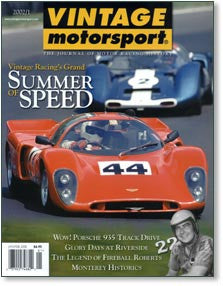 Vintage Motorsport Magazine
2002.1 Jan/Feb 2002
Regular price
$10.00
$0.00
Unit price
per
THE LIFE AND DEATH OF RIVERSIDE INT'L RACEWAY - Pt 1
Riverside's mystique reached to the core of racer and spector alike.
---
HOMETOWN HERO
Daytona Beach native Glenn "Fireball" Roberts was NASCAR's first superstar.
---
MG VINTAGE RACERS INVADE ELKHART LAKE
Celebrating 20 years of MG competition and camaraderie.
---
GREAT EXPECTATIONS
Editor D. Randy Riggs goes on-track in a Porsche 935 K3.
---
SALON: THE VIOLATOR-PORSCHE 935/K4
Meet Darth Vader's Porsche, violator of all that is decent and tolerable.
---
VINTAGE EVENT COVERAGE:
GRL Monterey Historics
SVRA Watkins Glen
SVRA Lime Rock
VSCCA Pittsburgh
Concorso Italiano

---