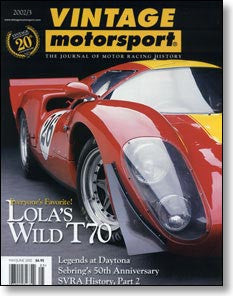 Vintage Motorsport Magazine
2002.3 May/Jun 2002
Regular price
$10.00
$0.00
Unit price
per
THE LOLA T70 - RACING'S BEAUTY QUEEN
As a small independent manufacturer, Lola lacked the resources to fully develop one of racing's most memorable and beautiful Sports Racing Prototypes.
---
SVRA - A HISTORY, PART 2
Onward and upward, ownership changes keep the SVRA in step with the ever-changing vintage racing scene during the years 1988-1995.
---
SALON: WHATEVER LOLA WANTS
The T70 MkIIIB coupe is all you ever look for in a woman --- smart, beautiful and fast.
---
HAPPY BIRTHDAY SEBRING!
Fifty years of animal magnitism and great international racing make Sebring's Golden Anniversary a special one.
---
ROLEX LEGENDS AT DAYTONA
Historic Sportscar Racing revs up for its 2002 season with the Rolex Legends at Daytona and Round One of HSR's ThunderSports Series.
---
VINTAGE EVENT COVERAGE:
HSR Sebring Endurance
Amelia Island Concours
HSR Brumos Daytona
SVRA VIR

---