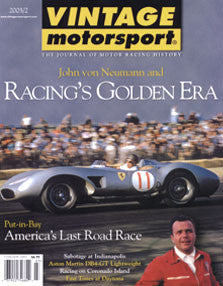 Vintage Motorsport Magazine
2003.2 Mar/Apr 2003
Regular price
$10.00
$0.00
Unit price
per
THE LAST AMERICAN ROAD RACE
Though Put-in-Bay lacked the grand scale of famous European road races, it made up for it with charm and something far more special.
---
A CAR ENTHUSIAST COMES TO AMERICA
Born with gasoline in his veins, John von Neumann made racing his sport but made automobiles his business.
---
SABOTAGE AT THE SPEEDWAY?
In 1948, an Indy 500-winning Maserati found itself at the center of a controversy at the Brickyard.
---
SALON: ASTON MARTIN DB4-GT LIGHTWEIGHT
Rare, powerful and beautiful, this specially developed race car missed out on a life in the spotlights.
---
VINTAGE EVENT COVERAGE:
SVRA Blue/Gray Challenge
SVRA VIR Season Finale
GRL Chrysler Speed Festival
HSR Brumos Daytona
VDCA Savannah

---