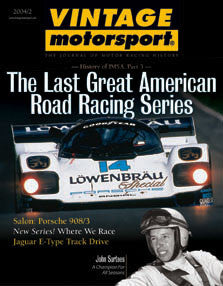 Vintage Motorsport Magazine
2004.2 Mar/Apr 2004
Regular price
$10.00
$0.00
Unit price
per
IMSA - The Last Great American Road Racing Series, Pt 3
This is the third in a four-part series on the history of the International Motor Sports Association. In the last installment, which covered the years 1976 to 1980, IMSA had become the most popular road racing series in North America. But even with the big fields of cars and ever increasing crowds, IMSA was facing a number of challenges.
---
John Surtees: A Champion for All Seasons
The only man to win world championships on two wheels and four.
---
Vintage Tech: Hard on the Brakes
The care and feeding of racing brakes is more involved than most racers imagine. This is what you need to pay attention to on any vintage race car.
---
E-Type Track Drive
Jaguar's Select Edition Racing Team invites us into the cockpit for a race in the SVRA U.S. Zippo GP at Watkins Glen.
---
Salon: Porsche 908/3
Where We Race: Road Atlanta and GingerMan Raceway
---
Vintage Event Coverage:
GRL Coronado
SVRA VIR
VSCDA Fall Festival
SVRA Blue/Gray Challenge
Riverside Reunion

---