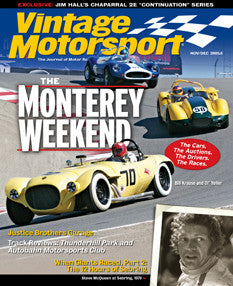 Vintage Motorsport Magazine
2005.6 Nov/Dec 2005
Regular price
$10.00
$0.00
Unit price
per
When Giants Raced, Part 2: The 12 Hours of Sebring
Motorsport photographer Hal Crocker witnessed one of the most memorable race events everthe 1970 12 Hours of Sebring.
---
We Always Called Him "Doc"
During the formative years of road racing in America, Doc Wyllie was not only a major player, but a winner too.
---
Vintage Motorsport Exclusive!
Jim Hall's Chaparral 2E "Continuation" Series - A Racing Legend Reborn.
---
FOB: Tyrrell Transporter
This 1969 Leyland Globemasters freight-on-board has always been Tyrrell Grand Prix carsback then and now.
---
Salon: 1962 Ferrari GTO
Great Vintage Garages: The Justice Brothers
Where We Race: Thunderhill Park and Autobahn Motorsports Club
---
Vintage Event Coverage:
GRL Rolex Monterey Historics
The Monterey Weekend
HMSA Portland Historic Races
VSCCA Pittsburgh Vintage GP
GRL Rolex Vintage Festival
SVRA Zippo Vintage GP
Shelby American Automobile Club 30th Anniv.
Moly Shield Oil Historic GP

---