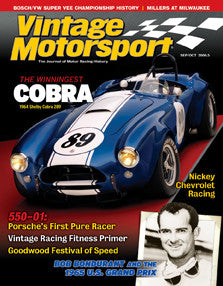 Vintage Motorsport Magazine
2006.5 Sept/Oct 2006
Regular price
$10.00
$0.00
Unit price
per
NICKEY CHEVROLET RACING
Chicagos Nickey Chevrolet was once not only one of Americas largest auto dealerships but also a major player in motorsport. It was truly a mega-dealer before the term was even coined.
---
BOSCH/VW SUPER VEE CHAMPIONSHIP
For two decades the Super Vee dutifully trained champion racers, but its mission was never better served than during the early 1980s when it produced a genuine pair of American racing heroes.
---
THE COLLIER COLLECTION: PORSCHE 550-01
Long believed forever lost to the ages, this car is the first of two 550 prototypes built by Porsche and is nothing less than the companys first purpose-built race car.
---
MY FAVORITE RACE: BOB BONDURANT and the '65 U.S. GRAND PRIX
If youve been in or around racing for any length of time, youll immediately associate the name Bob Bondurant with the professional driving school that bears his name.
---
Fitness Racing Primer, Part 1
Salon: 1964 Shelby Cobra 289
Great Vintage Garages: Don Martine
Brock Yates Column
Brian Redman Column
Auctions: Racing Across The Block
---
Vintage Event Coverage:
Kohler International Challenge
Goodwood Festival of Speed
VIR Gold Cup
Le Mans Legends
Millers at Milwaukee
HSR Watkins Glen
LA Concours

---