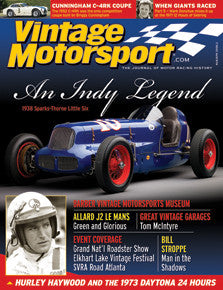 Vintage Motorsport Magazine
2008.2 Mar/Apr 2008
Regular price
$10.00
$0.00
Unit price
per
WHEN GIANTS RACED,
PART 5
The world's best endurance racers battle at the 1971 12 Hours of Sebring.
---
MAN IN THE SHADOWS
Bill Stroppe made an indelible mark in many disciplines of motorsport.
---
THE COLLIER COLLECTION
1952 CUNNINGHAM C-4RK
The C-4RK Coupe was Chrysler Hemi V8 powered and could reach 160mph.
---
BARBER VINTAGE MOTORSPORTS MUSEUM
The world's finest motorcycle museum and a state-of-the-art road course.
---
- SALON: 1938 Sparks-Thorne
Little Six
- GREAT VINTAGE GARAGES:
Tom McIntyre
- MY FAVORITE RACE:
Hurley Haywood
- The Allard J2 Le Mans
- AUCTION COVERAGE: Racing Across The Block
---
VINTAGE EVENT COVERAGE:
- SVRA Road Atlanta
- HSR Daytona
- VSCDA Elkhart Lake
- HSR-W Phoenix
- VSCDA Turkey Bowl
- Grand National Roadster Show

---