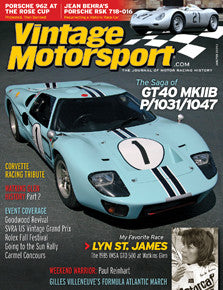 Vintage Motorsport Magazine
2009.1 Jan/Feb 2009
Regular price
$10.00
$0.00
Unit price
per
WATKINS GLEN 60th ANNIVERSARY, PART 2
The early days of racing at Watkins Glen reflected the growing enthusiasm for sports cars and road racing in America, but it was Formula 1 that brought Watkins Glen onto the world stage and NASCAR that has kept it there.
---
THE RESURRECTION OF PORSCHE RSK 718-016
Frenchman Jean Behra suffered fatal injuries after crashing this RSK at Avus near Berlin in 1959. Because of that, the cars remains posed an ethical quandary for Cavaglieri Restorations as to whether or not the car should be brought back to its original condition.
---
TALES OF A WEEKEND WARRIOR
Without fanfare, drivers like Paul Reinhart raced against the best in the business and showed the way for the limited budget racer.
---
COLLIER COLLECTION:
GT40 P 1031/1047 MKIIB
Every race car ever built is a product of its time, reflecting the political and regulatory environment of its period. Telling the story of this car without establishing the context into which it was created would be an injustice, to the car and to the saga of Fords iconic GT40.
---
- SALON: 1975 March 75B Formula Atlantic
- Garage: Harley Cluxton
- Favorite Race - Lyn St.James
- The Story of Ol Blue and the 962
- Auction coverage
---
VINTAGE EVENT COVERAGE
- SVRA Watkins Glen
- GRL Lime Rock
- Goodwood Revival
- Carmel Concours
- Corvette Racing Tribute
- Going to the Sun Rally

---