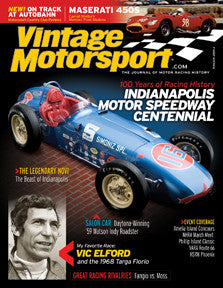 Vintage Motorsport Magazine
2009.3 May/Jun 2009
Regular price
$10.00
$0.00
Unit price
per
INDIANAPOLIS: IN THE BEGINNING
It was a century agoJune 5, 1909that the new Indianapolis Motor Speedway held its first event, a hot-air balloon race. In honor of its founding and the inaugural Indianapolis 500-Mile International Sweepstakes two years later, the Speedway is celebrating its Centennial Era from 2009 through 2011.
---
THE BEAST OF INDIANAPOLIS
The monstrously powerful Novi never won a race, but captured the hearts of racing fans the world over.
---
GREAT RACING RIVALS: FANGIO vs. MOSS
Juan Manuel Fangio and Stirling Moss were rivals, but gracious teammates, too.
---
MY FAVORITE RACE
A stunning victory for Vic Elford in the 1968 Targa Florio.
---
- SALON: 1959 Simoniz Special Watson Roadster
- Maserati 450S
- Great Garage: Jack Croul
- Autobahn Country Club Joliet
- Auction coverage
---
VINTAGE EVENT COVERAGE
- Amelia Island Concours
- VARA Route 66
- HSR-W Phoenix
- Phillip Island Classic
- NHRA March Meet

---