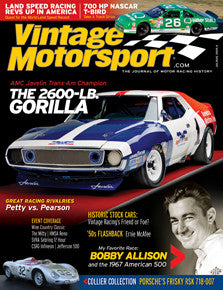 Vintage Motorsport Magazine
2009.4 July/Aug 2009
Regular price
$10.00
$0.00
Unit price
per
ERNIE MCAFEE:
A RACING LIFE
"That was a lousy car a car that should never have been on a short track like that." Great racing driver Jack McAfee was blunt about the harrowing accident in Bill Dohenys 4.4 Ferrari 121LM that took the life of his friend, sometimes competitor and co-driver Ernie McAfee during the seventh running of the Pebble Beach Road Races on April 22, 1956. Although the McAfee racing lives were intertwined as far back as the lakes era, they were not related.
---
CHASING THE WORLD LAND SPEED RECORD
For the first time, competition between British and American teams for the World Land Speed Record would take place on the same pitch beginning in 1927.
---
CLASSIC RACING RIVALRIES: PETTY VS. PEARSON
If you've ever seen them, the images remain indelible in your mind. Close your eyes and they appear, replaying in your cerebral cortex the last half lap of the 1976 Daytona 500. NASCAR's two greatest stars, Richard Petty and David Pearson, are locked in fierce combat, a lap ahead of everyone else and headed for the checkered flag having kept the fans on their feet for the past 20 laps, ever since they began swapping the lead back and forth.
---
THE COLLIER COLLECTION: PORSCHE RSK
It was only a matter of time before Porsche would build its own race car. That opportunity came in 1952 when Ferry Porsche realized success in motorsport was directly related to sales and green-lighted the design and construction of Porsche's first race car, the Type 550.
---
- HISTORIC STOCK CARS
- My Favorite Race: BOBBY ALLISON
- SALON: 1971 AMC Javelin
Trans-Am
- Great Garage: Joe Buzzetta
- VIR Club
- Auction coverage
---
EVENT COVERAGE
- GRL Wine Country
- HSR Walter Mitty
- VRG Jefferson 500
- SVRA Sebring
- HMSA Reno
- CSRG First Event

---