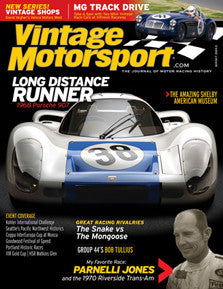 Vintage Motorsport Magazine
2009.5 Sept/Oct 2009
Regular price
$10.00
$0.00
Unit price
per
WINNING FOR A LIVING
Bob Tullius and Group 44 made for one of motorsport's best-ever combinations.
---
THE FORGOTTEN
GRAND PRIX
A steamy August weekend in Grand Island, New York, marked a turning point in American sports car racing on public roads.
---
THE SNAKE VS.
THE MONGOOSE
Among the general public, there was no better-known racing rivalry than The Snake versus The Mongoose.
---
MY FAVORITE RACE: PARNELLI JONES
The 1970 SCCA Mission Bell 200 Trans-Am at Riverside International Raceway.
---
- Shelby American Museum
- SALON: 1968 Porsche 907-027
- Great Garage: Jack Murray
- Vintage Shops: Veloce Motors West
- Motorsport Ranch
---
EVENT COVERAGE
- Coppa InterEuropa Cup at Monza
- HSR Watkins Glen
- VIR Gold Cup
- Pacific Northwest Historics
- Portland Historic Races
- Goodwood Festival of Speed
- Kohler International Challenge

---