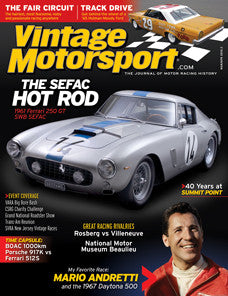 Vintage Motorsport Magazine
2010.2 Mar/Apr 2010
Regular price
$10.00
$0.00
Unit price
per
JOHNNY RUTHERFORD and the FAIRGROUNDS CIRCUIT
At county and state fairs, people came out to see the farm animals and bearded lady, but most of all to watch brave men stand on the gas.
---
SUMMIT POINT AT 40
Region and pro racers, corner workers and spectators have adapted, found their way there, and have four decades enjoyed Summits challenging, bumpy two miles of asphalt laid over West Virginia clay and rock.
---
TRACK DRIVE:
1965 NASCAR HOLMAN-MOODY FORD
Forty-five years ago, one of the more memorable auto commercials featured the 1965 Ford Galaxie, claiming that in tests the new model was as quiet as a Rolls-Royce. Not this one.
---
MY FAVORITE RACE: MARIO ANDRETTI
Shaking up the good old boys at the 1967 Daytona 500.
---
ALSO IN THIS ISSUE
- Salon: 1961 Ferrari 250 GT SWB SEFAC
- Monticello Motor Club
- Great Vintage Garages: Mike Taggart
- Classic Racing Rivalries: Keke Rosberg vs. Gilles Villeneuve
- National Motor Museum Beaulieu
- 1970 BOAC 1000 at Brands Hatch
- Great Vintage Shops: Virtuoso Performance
---
EVENT COVERAGE
- VARA Big Bore Bash
- CSRG Charity Challenge
- Grand National Roadster Show
- Trans-Am Reunion
- SVRA New Jersey Vintage Races

---