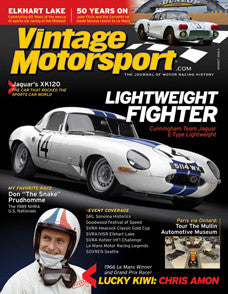 Vintage Motorsport Magazine
2010.5 Sept/Oct 2010
Regular price
$10.00
$0.00
Unit price
per
- FIFTY YEARS ON: CORVETTE AT LE MANS
John Fitch and the Corvette he made famous return to
Le Mans.
---
THE JAGUAR XK120
Six decades later, it remains one of the most attractive sports cars ever built.
---
ELKHART LAKE 60th ANNIVERSARY
For three short years they raced through this village, the genesis of the circuit known as Road America.
---
LUCKY KIWI: CHRIS AMON
Teamed with Bruce McLaren, he brought victory to Ford at
Le Mans.
---
ALSO IN THIS ISSUE
- Salon: 1963 Jaguar E-Type GT Lightweight
- Great Vintage Garages: Schumann Garage
- My Favorite Race Don "The Snake" Prudhomme
- Classic Racing Rivalries: Larry Dickson vs. Gary Bettenhausen
- The Mullin Automobile Museum
- Great Vintage Shops: Motion Products, Inc.
---
EVENT COVERAGE
- GRL Sonoma Historics
- Goodwood Festival of Speed
- SVRA Heacock Classic Gold Cup
- SVRA/HSR Elkhart Lake
- SVRA Kohler Intl Challenge
- Le Mans Motor Racing Legends
- SOVREN Seattle

---