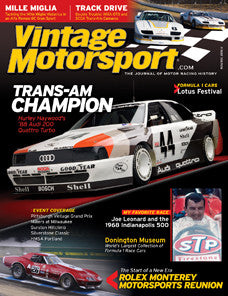 Vintage Motorsport Magazine
2010.6 Nov/Dec 2010
Regular price
$10.00
$0.00
Unit price
per
- A LOTUS CELEBRATION
To help celebrate its 500th Grand Prix start, Lotus gathers together an impressive array of its Formula 1 machines representing several racing eras at the Lotus Festival in England.
---
THE MILLE MIGLIA HISTORICA
From the cockpit of an Alfa Romeo to a second-place finish.
---
CAMARO TRACK DRIVE
Flat out in two 650hp Camaros, IMSA GTO and SCCA Trans-Am.
---
THE DONINGTON GRAND PRIX EXHIBITION
On your next trip to England, make time for a visit to Leicestershire, where one of the worlds largest collections of Formula 1 race cars awaits.
---
ALSO IN THIS ISSUE
- Art Eastman Tribute
- Salon: 1988 Audi 200 Quattro Turbo Trans-Am
- Great Vintage Garages: Webster Garage
- Joe Leonard and the 1968 Indy 500
- Vintage Shops: Intrepid Motorcar Company
- New Jersey Motorsports Park
---
EVENT COVERAGE
- Rolex Monterey Motorsports Reunion
- Pittsburgh Vintage Grand Prix
- Millers at Milwaukee
- Gurston Hillclimb
- Silverstone Classic
- HMSA Portland

---