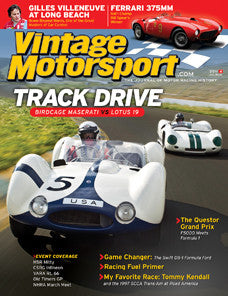 Vintage Motorsport Magazine
2011.4 July/Aug 2011
Regular price
$10.00
$0.00
Unit price
per
- THE 1971 QUESTOR GRAND PRIX
Brilliant theatre! Formula 1 vs Formula 5000 along with the best drivers in the world.
---
GILLES WAS BURNIN' DOWN THE HOUSE
It would be a breakout F1 weekend in Long Beach for Villeneuve in the Ferrari 312-T3.
---
GAME CHANGER
The 1983 Swift DB-1 Formula Ford rendered the rest obsolete, overnight.
---
TRACK DRIVE: BIRDCAGE MASERATI VS. LOTUS 19
We compare two icons of sports car racings golden age at Infineon Raceway.
---
ALSO IN THIS ISSUE
- Salon: 1953 Ferrari 375MM
- Tommy Kendall and the 1997 SCCA Trans-Am at Road America
- Great Vintage Garages:
Brock Yates Garage
- Racing Fuel Primer
- Vintage Shops: Road Rockets
- Auto Auction Coverage
---
EVENT COVERAGE
- VARA Rt. 66
- CSRG Infineon
- HSR Mitty
- Old Timers GP
- NHRA March Meet

---