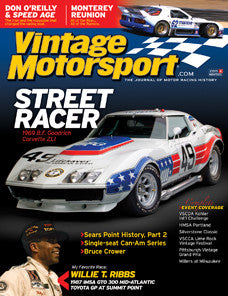 Vintage Motorsport Magazine
2011.6 Nov/Dec 2011
Regular price
$10.00
$0.00
Unit price
per
- SEARS POINT RACEWAY HISTORY, PART 2
A thoroughly modern racing facility that grew from the dream of a few.
---
DON O'REILLY & SPEED AGE
The man who changed the racing beat.
---
SINGLE-SEAT CAN-AM SERIES
If you fender them, they will comeat least that's what the SCCA hoped.
---
BRUCE CROWER
The veteran cam grinder & speed equipment pioneer reflects on 60 years of making innovative horsepower in his quest for speed
---
ALSO IN THIS ISSUE
- Salon: 1969 B.F. Goodrich Corvette ZL1
- Willie T. Ribbs and the 1987 IMSA GTO 300 Mid-Atlantic Toyota GP at Summit Point
- Great Vintage Garages:
Tom & Susan Armstrong Garage
- Corner Balancing your Vintage Racer
- Vintage Shops: J & L Fabricating Race Cars and Restorations
- Auto Auction Coverage
---
EVENT COVERAGE
- Monterey Motorsports Reunion
- VSCDA Kohler Intl Challenge
- HMSA Portland
- Silverstone Classic
- VSCCA Lime Rock Vintage Festival
- Pittsburgh Vintage Grand Prix
- Millers at Milwaukee

---