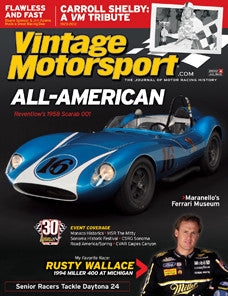 Vintage Motorsport Magazine
2012.4 July/Aug 2012
Regular price
$10.00
$0.00
Unit price
per
- CARROLL SHELBY TRIBUTE
Chicken farmer, race car driver, entrepreneur. There will never be another quite like him.
---
TARGA FLORIO HISTORY, PART 2
The worlds best race cars and drivers headed for Sicily to meet its challenge.
---
FLAWLESS AND FAST
Doane Spencer and Jim Adams made for a winning combination.
---
AUTOSPORT EVEREST
50+ Racing takes on the Rolex Daytona 24 in a Riley-BMW Daytona Prototype.
---
ALSO IN THIS ISSUE
- Vintage Motorsport 30th Anniversary
- Salon: Reventlow's 1958 Scarab #001
- Rusty Wallace and the 1994 Miller 400 at Michigan
- Great Vintage Garages:
Jim Taylor Garage
- Vintage Shops: McGee Mtrsprts, Inc.
- Auto Auction Coverage
---
EVENTS
- HSR The Mitty
- Road America/Spring Vintage Wknd
- Sonoma Historic Motorsports Festival
- CVAR Marvelous May Races
- CSRG Sonoma
- Monaco Historics

---