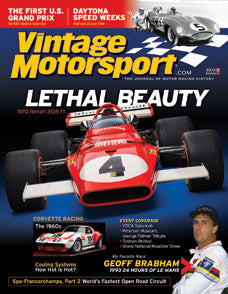 Vintage Motorsport Magazine
2013.2 Mar/Apr 2013
Regular price
$10.00
$0.00
Unit price
per
- DAYTONA SPEED WEEKS
Like Spring Break in the 1990s, but with less beer, bigger bathing suits and more cars.
---
THE FIRST U.S. GRAND PRIX
With the return of a Formula 1 Grand Prix to the U.S., we look back at the almost forgotten first USGP.
---
OLD NUMBER 11
Don Martine and this iconic MG TD racer personify the motto Man-And-Machine.
---
CORVETTE 60TH ANNIVERSARY
Part 2: The 1960s - Privateers to the Rescue.
---
ALSO IN THIS ISSUE
- Salon: 1970 Ferrari 312B F1
- Great Vintage Garages: John Dixon
- My Favorite Race: Geoff Brabham and the 1993 24 Hours of Le Mans
- Race Tech: Cooling Systems
- Spa Francorchamps, Part 2
- Vintage Shops: Jerry Weeks
- Auto Auction Coverage
---
EVENTS
- VDCA Savannah
- Petersen Museum
George Follmer Tribute
- Tasman Revival
- Grand National Roadster Show

---