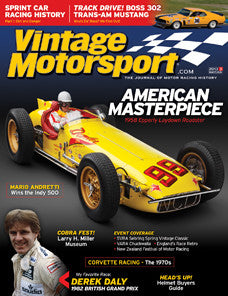 Vintage Motorsport Magazine
2013.3 May/Jun 2013
Regular price
$10.00
$0.00
Unit price
per
- SPRINT CAR RACING HISTORY
In Part 1, We document the influence of the formula through the decades leading up to World War II, when racing in the U.S. was halted.
---
NOT A CHANCE IN HELL OF FINISHING
In a backup Brawner Hawk, Mario Andretti Wins the 1969 Indy 500.
---
CORVETTE 60TH ANNIVERSARY
Part 3: The 1970s - The Rise of Radicalism.
---
BOSS 302 TRANS-AM
We go on track with a legendary race car.
---
ALSO IN THIS ISSUE
- Salon: 1958 Epperly Indy Roadster
- Great Vintage Garages:
Jody Scheckter
- My Favorite Race: Derek Daly and
the 1982 Marlboro British Grand Prix
- Race Tech: Helmet Buyers Guide
- Miller Total Performance Museum
- Vintage Shops: Huffaker Engineering
- Auto Auction Coverage
---
EVENTS
- SVRA Spring Vintage Classic
- Race Retro
- New Zealand Festival of Motor Racing
- VARA Chuckwalla Desert Classic

---