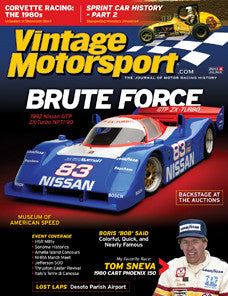 Vintage Motorsport Magazine
2013.4 July/Aug 2013
Regular price
$10.00
$0.00
Unit price
per
- SPRINT CAR RACING HISTORY
In Part Two, we pick up immediately after the war as sprint car racing resumes from coast to coast.
---
CORVETTE 60th ANNIVERSARY
In the 1980s Chevrolet formally abandoned its adherence to the 1957 AMA competition ban and strongly supported Corvettes in prototype and showroom stock racing.
---
BORIS 'BOB' SAID
A Life in the Day of a Motor Racing Mystic.
---
DeSOTO PARISH AIRPORT
The 2.4-mile circuit was a popular site for sports car competition in the Deep South during the 1950s and early 60s.
---
ALSO IN THIS ISSUE
- Salon: 1992 Nissan GTP ZX-Turbo NPTI 90
- Great Vintage Garages: Chet Knox
- My Favorite Race: Tom Sneva and
the 1980 CART Phoenix 150
- Museum of American Speed
- Backstage at the Auctions
- Vintage Shops: Holman & Moody
- Auto Auction Coverage
---
EVENTS
- Thruxton Easter Revival
- Jefferson 500
- NHRA March Meet
- Italys Terre di Canossa
- Amelia Island Concours
- HSR Mitty
- Sonoma Historics

---