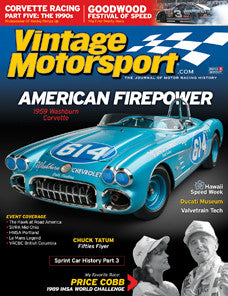 Vintage Motorsport Magazine
2013.5 Sept/Oct 2013
Regular price
$10.00
$0.00
Unit price
per
- SPRINT CAR RACING HISTORY
In Part 3 we cover the evolution and revolutions within sprint car racing that have taken place in the last 40-plus years.
---
CHUCK TATUM
Taken by the sports car craze that flourished in California in the early 1950s, this racers goal was to build a car out of American parts that would beat an Allard and all the rest.
---
HAWAII SPEED WEEK
Near the end of the 1950s, offshore sports car racing tried to make a go of it, and an organized incorporated territory of the United States seemed like a winning venue.
---
CORVETTE 60th ANNIVERSARY
In the 1990s Corvettes dominance in showroom stock wound down at the same time its professional GT racing program began its ascendancy to the very pinnacle of the sport.
---
ALSO IN THIS ISSUE
- Salon: 1959 Washburn Corvette
- Great Vintage Garages: Dick Skipworth
- My Favorite Race: Price Cobb and
the 1989 IMSA Tampa Camel GT
- Museo Ducati
- Rocker Arms and Valve Springs
- Hot Wheels Hauler
- Vintage Shops: GE Autosports
- Auto Auction Coverage
---
EVENTS
- Goodwood Festival of Speed
- SVRA Mid-Ohio
- Pacific Northwest Historics
- HMSA Portland
- VRCBC British Columbia
- The Hawk at Road America

---