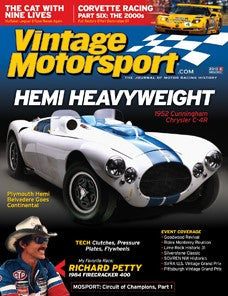 Vintage Motorsport Magazine
2013.6 Nov/Dec 2013
Regular price
$10.00
$0.00
Unit price
per
- COVETTE 60th ANNIVERSARY
The turn of the millennia marked the dawn of a new era in Corvette Racing.
---
PLYMOUTH BELVEDERE GOES CONTINENTAL
The Ford vs Ferrari war was in full force at Daytona's 1965 12+hour Continental 2000km and in the middle of it all was a hulking Plymouth Hemi.
---
MOSPORT: CIRCUIT OF CHAMPIONS
Part 1 - Mosport: The Beginnings of Canada's Foremost Permanent Circuit.
---
THE CAT WITH NINE LIVES
This Jaguar E-Type did years of racing with several owners, and was stored away for nearly two decades until being brought back to life.
---
ALSO IN THIS ISSUE
- Salon: 1952 Cunningham C-4R
- Great Vintage Garages: Bruce Meyer
- My Favorite Race: Richard Petty and
the 1984 Firecracker 400 at Daytona
- Museo Ducati
- Clutches, Pressure Plates, Flywheels
- Vintage Shops: TT Motors
- Auto Auction Coverage
---
EVENTS
- Goodwood Revival
- Rolex Monterey Motorsports Reunion
- Lime Rock Historic Festival 31
- Silverstone Classic
- SOVREN Pacific Northwest Historics
- SVRA U.S. Vintage Grand Prix
- Pittsburgh Vintage Grand Prix

---