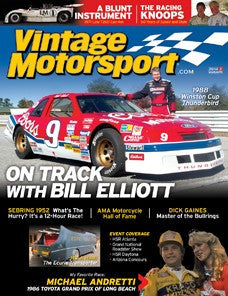 Vintage Motorsport Magazine
2014.2 Mar/Apr 2014
Regular price
$10.00
$0.00
Unit price
per
- ON TRACK with BILL ELLIOTT
A NASCAR champion reunites with a Thunderbird from his 1988 season, and he lets the editor drive, too.
---
WHAT'S THE HURRY? IT'S A 12-HOUR RACE?
America's first international endurance race ran in 1952 at Sebring on the longest circuit in North America.
---
THE RACING KNOOPS
Rick Knoop's cars and incredible racing career seemingly knit smoothly back to his dad's racing legacy.
---
DICK GAINES
In earth-shattering sprint cars, he won year after year across the Midwest, defeating the sport's best.
---
ALSO IN THIS ISSUE
- SALON: 1971 Lola T260 Can-Am
- Great Vintage Garages:
Raynal Garage
- My Favorite Race: Michael Andretti and the 1986 Toyota Grand Prix of Long Beach
- AMA Motorcycle Hall of Fame
- Ecurie Ecosse Transporter
- Vintage Shops: Perfect Reflections
- Club Track: The Thermal Club
---
EVENTS
- HSR Atlanta Historics
- Grand National Roadster Show
- HSR Daytona Historic Races
- Arizona Concours dElegance

---