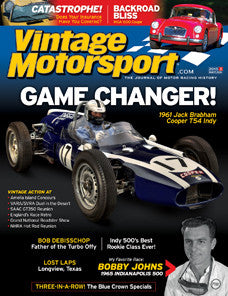 Vintage Motorsport Magazine
2015.3 May/Jun 2015
Regular price
$10.00
$0.00
Unit price
per
- THE BLUE CROWN SPECIALS
Lou Moore's better idea won three Indianapolis 500s in a row from 1947 to 1949 with his front-drive Specials.
---
ROOKIE STRIPES
The Indianapolis 500's extraordinary freshman class of 1965 had the most success of any rookie group before or after.
---
WHAT MATTERED MOST
From the roaring roadsters to Offenhauser's rebirth at Indy, Bob DeBisschop was right there.
---
COUPE DU JOUR: ROAD STIR
We go stirring up some back roads in a 1960 MGA 1600 Coupe.
---
ALSO IN THIS ISSUE
- SALON: 1961 Jack Brabham
Cooper T54 Indy
- Great Vintage Garages:
Herb Wetanson Garage
- My Favorite Race: Bobby Johns and the 1965 Indy 500
- Lost Laps: Longview Texas Airport
- National Motor Museum, Beaulieu
- Collector Car Insurance Guide
- Vintage Shops: Formhalls Vintage & Racing, Ltd.
---
EVENTS
- England's Race Retro
- VARA/SVRA Duel in the Desert
- Amelia Island Concours
- Grand National Roadster Show
- NHRA Hot Rod Reunion
- SAAC GT350 Reunion

---