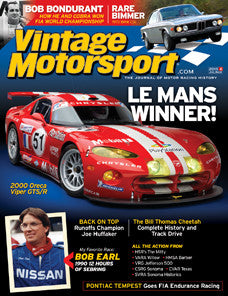 Vintage Motorsport Magazine
2015.4 July/Aug 2015
Regular price
$10.00
$0.00
Unit price
per
- TEMPEST IN A TEAPOT
Tempest In a Teapot PART 1: In the early '60s GM wanted to prove its new compact cars in competition and Pontiac's Tempest led the charge.
---
BILL THOMAS CHEETAH
They might have out Cobra'd Shelby's Cobras, but never got the chance. History and track drive.
---
AMERICAN DRIVER, AMERICAN CAR
Bob Bondurant took Shelby's Cobra to the FIA GT World Manufacturers Championship 50 Years Ago This Month.
---
ROAD STIR: 1973 BMW CSL
It was BMW's homologation special, one of the most muscular and respected sports coupes of the 1970s.
---
ALSO IN THIS ISSUE
- SALON: 2000 Oreca Viper GTS/R
- Great Vintage Garages:
Phil Gumpert Garage
- My Favorite Race: Bob Earl and the 1990 12 Hours of Sebring
- Joe Huffaker Jr. Returns to the Runoffs
- Nat'l Corvette Museum Mtrsprts Park
- Int'l Motor Racing Research Center
- Race Mechanic Terry "Piggy" Malone
- Vintage Shop: Competition Touring Cars
---
EVENTS
- CSRG Sonoma
- HSR's The Mitty
- Thruxton
- Quail Motorcycle
- HMSA Barber
- CVAR Texas
- SVRA Sonoma Historics
- VRG Jefferson 500
- VARA Willow

---