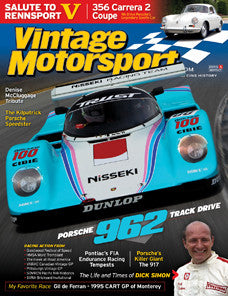 Vintage Motorsport Magazine
2015.5 Sept/Oct 2015
Regular price
$10.00
$0.00
Unit price
per
- PORSCHE 962 TRACK DRIVE
Editor D. Randy Riggs gets the chance to tackle Laguna Seca in Bruce Canepa's amazing 1990 Porsche 962C GTP.
---
THE TITANS' GREATEST DAY
Was this the greatest race, for what just might be the greatest Grand Prix car - the Mercedes-Benz W125?
---
DICK SIMON
Simon functioned at the highest level in one of the most demanding technical automotive exercises in the world.
---
1963 PORSCHE CARRERA 2 GS
Road Stir: Rare and expensive when new, even today it's perhaps the ultimate 356 street machine.
---
ALSO IN THIS ISSUE
- SALON: 1968 Penske Camaro Trans-Am
- Great Vintage Garages:
Oscar Davis Garage
- My Favorite Race: Gil de Ferran - 1995 CART Toyota Grand Prix of Monterey
- Remembering Denise McCluggage
- The General Kilpatrick Speedster
- Tempest in a Teapot, Part 2
- 917: Porsche's Killer Giant
- Vintage Shop: Moal Coachbuilders
---
EVENTS
- Goodwood Festival of Speed
- SOVREN Pacific NW Historics
- SVRA Brickyard Invitational
- The Hawk at Road America
- Pittsburgh Vintage Grand Prix
- VARAC Canadian Vintage Grand Prix
- HMSA Mont Tremblant

---