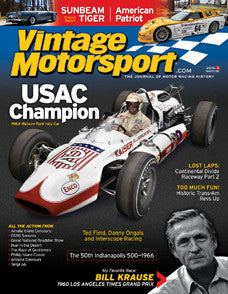 Vintage Motorsport Magazine
2016.3 May/Jun 2016
Regular price
$10.00
$0.00
Unit price
per
- CONTINENTAL DIVIDE RACEWAYS
PART 2: USAC, Trans-Am and SCCA kept the track alive in the 1960s but it failed to last through the '70s.
---
FACTORY DIRECT
Corvette C5-R 002 was one of the cars that laid the foundation for a Corvette factory team that would dominate
for years.
---
ROAD STIR: 1966 SUNBEAM TIGER Mk1A
As the ads once said, Versatile! Drag It! Race It! Swing With It! Or in the case of this owner,
keep it!
---
MAYHEM ON LAP ONE
Who could have forseen it? The 50th running of the Indianapolis 500 in 1966 would be remembered for a wild start and a totally unexpected finish.
---
ALSO IN THIS ISSUE
- SALON: 1964 Watson-Ford Indy Car
- Great Vintage Garages:
Rick Lorenzen Garage
- My Favorite Race: Bill Krause and the
1960 Los Angeles Times Grand Prix
- Racing With the Historic Trans-Am Group
- Woody Woodard - One of Penske Racing's Best
- Ted Field and the Interscope Racing Years
- Vintage Shop: Metalkraft Coachwerkes
---
EVENTS
- Targa 66
- CSRG Sonoma
- Duel in the Desert
- Grand National Roadster Show
- Amelia Island Concours
- The Race of Gentlemen
- Arizona Concours
- Phillip Island Classic

---