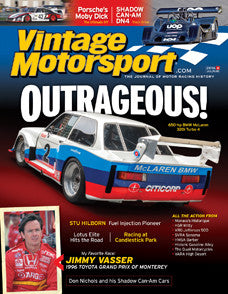 Vintage Motorsport Magazine
2016.4 July/Aug 2016
Regular price
$10.00
$0.00
Unit price
per
- DON NICHOLS & HIS SHADOWS
Part 1: The marvelous machines of a man of mystery-Can-Am Quest and T-Rex By the Tail - Shadow DN4 Track Drive.
---
THE ULTIMATE 911 RACE CAR?
A Porsche 911-based racer intended for
Le Mans - white with a long tail - the Porsche that became known as Moby Dick.
---
RACING AT THE "STICK"
The massive, paved parking lot between the new Candlestick Park and S.F. Bay was an enticing venue for sports car races.
---
A LE MANS RACECATION
An amateur driver gets his shot at the 1984 24 Hours of Le Mans racing an ADA Ford-Cosworth DFL.
---
ALSO IN THIS ISSUE
- SALON: 1978 IMSA BMW 320i McLaren Turbo
- Great Vintage Garages:
Bill Scherer Garage
- My Favorite Race: Jimmy Vasser and the 1996 Toyota Grand Prix of Monterey
- Stuart Hilborn - Fuel Injection Pioneer
- Road Stir: 1961 Lotus Elite S2
- Waggot 1968 TC4V 16-Valve Inline-4
- Vintage Shop: Automotive Restorations, Inc.
---
EVENTS
- HSR Mitty
- Monaco's Historique
- The Quail Motorcycles
- HMSA Barber
- SVRA Sonoma
- VRG Jefferson 500
- Historic Gasoline Alley
- VARA High Desert

---