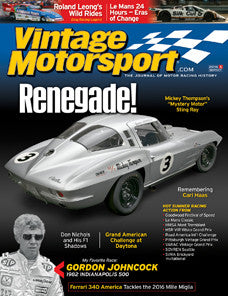 Vintage Motorsport Magazine
2016.5 Sept/Oct 2016
Regular price
$10.00
$0.00
Unit price
per
- PART ONE: THE LE MANS EMPIRE
Find out how the most significant sports car race on the planet, the Le Mans 24 Hours, has ebbed and flowed...
---
DON NICHOLS & HIS SHADOWS
PART 2: The marvelous machines of a man of mystery - the open-wheel era - expanding into international GP competition.
---
THE HAWAIIAN - ROLAND LEONG
The world of drag racing has its share of free spirits, but only a few can wear the moniker of "legendary" character.
---
FROM AMERICA WITH LOVE
The Ferrari 340 America that conquered the Mille Miglia in 1951 returned to Italy in 2016 to renew the challenge.
---
ALSO IN THIS ISSUE
- SALON: 1963 Corvette Sting Ray Z06 427 Mk IIS
- My Favorite Race: Gordon Johncock and the 1982 Indianapolis 500
- Thompson & Taylor (Brooklands Ltd.)
- The American Challenge Cup
- LeMay Museum
- Remembering Carl Haas
- Waggot 1968 TC4V 16-Valve Inline-4
- Vintage Shop: Steve Hogue Enterprises
---
EVENTS
- Goodwood Festival of Speed
- Road America Int'l Challenge
- Pittsburgh Vintage Grand Prix
- SOVREN Seattle
- Le Mans Classic
- HSR VIR Wisko Grand Prix
- VARAC Vintage Grand Prix
- HMSA Mont Tremblant
- SVRA Brickyard Invitational

---