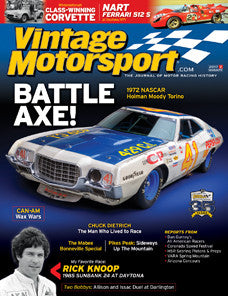 Vintage Motorsport Magazine
2017.2 Mar/Apr 2017
Regular price
$10.00
$0.00
Unit price
per
PIKES PEAK HILL CLIMB
PART 2: The Pikes Peak International Hill Climb grew to be an American legend in the second half of the 20th Century.
---
THE MAN WHO LIVED TO RACE
Chuck Dietrich held the no. 1 honorary competition license in the Sports Car Club of America.
---
CLOSE, BUT NO CIGAR
Tony Adamowicz and Ronnie Bucknum race a NART Ferrari 512S at the 1971 24 Hours of Daytona.
---
THE WAX WARS
J/Wax and Simoniz go to war in a battle of marketing in the monstrous Can-Am series.
---
ALSO IN THIS ISSUE
- SALON: 1972 NASCAR Holman Moody Ford Torino
- My Favorite Race: Rick Knoop and the
1985 Sunbank 24 at Daytona
- Remembering Carl Jensen
- Shelby American Collection
- The Two Bobbys
- The Guy Mabee Special
- Full Circle Corvette
- Vintage Shop: Heritage Motorsports
---
EVENTS
- VARA Big Bore Bash
- HSR Sebring Pistons & Props
- VARA Spring Mountain
- Arizona Concours
- Dan Gurney's All American Racers
- Coronado Speed Festival

---