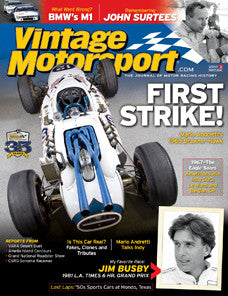 Vintage Motorsport Magazine
2017.3 May/June 2017
Regular price
$10.00
$0.00
Unit price
per
WHEN EAGLES SOARED
50 years ago American drivers A.J. Foyt and
Dan Gurney won at Indy, Le Mans and Spa.
---
MARIO AT INDY
Mario Andretti reminisces about his experiences
racing 29 times in the Indianapolis 500.
---
THE CONTENDER
BMW's race-ready M1 was nearly a rival for
Porsches 911 RS. What went wrong?
---
THE CHAPARRAL'S DAY
In 1980, Johnny Rutherford, Jim Hall and the "ground-effects" Chaparral 2K dominated the "500."
---
ALSO IN THIS ISSUE
- SALON: 1965 Brawner-Hawk Indy Car
- My Favorite Race: Jim Busby and the
1981 L.A. Times Grand Prix
- Alfa Romeo Museum
- Is This Car Real?
- Lost Laps: Hondo, Texas
- From Two To Four: Ernst Henne
- Carlos de Quesada Garage
- Vintage Shop: Callas Rennsport
---
VINTAGE EVENTS
- VARA Duel in the Desert
- Amelia Island Concours
- CSRG David Love Vintage Races
- Grand National Roadster Show
---