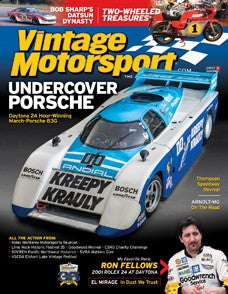 Vintage Motorsport Magazine
2017.6 Nov/Dec 2017
Regular price
$10.00
$0.00
Unit price
per
SYD SILVERMAN
Vintage Motorsport's chairman emeritus remembered.
---
FUNNY CAR MOVIE TIME
Making a documentary in 1971 with Don "The Snake" Prudhomme and Tom "The Mongoose" McEwen.
---
BOB SHARP-MARKETING MAN
His driving skill and business savvy helped make Datsun one of the most recognized names in American motorsports.
---
IN DUST WE TRUST
Land speed racers have been domesticating El Mirage Dry Lake every year since 1945.

---
THOMPSON SPEEDWAY MOTORSPORTS PARK
Once a cornerstone of American racing, it is now enjoying a noteworthy revival.

---
ROAD STIR-CINDERELLA TD
Think of the Arnolt-MG as a scullery mail masquerading as a princess.
---
ALSO IN THIS ISSUE
- SALON: 1983 March-Porsche 83G
- My Favorite Race: Ron Fellows and the 2001 Rolex 24 at Daytona
- Moto Talbott Museum: Two Wheeled Treasures
- Great Vintage Garages: McGrath Keen Garage
- Vintage Shop: PowerPlant Motorsports and Plus Zero Motorsports

---
VINTAGE EVENTS
- Rolex Monterey Motorsports Reunion
- Goodwood Revival
- Lime Rock Historic Festival 35
- SOVREN Pacific Northwest Historics
- CSRG Charity Challenge
- VSCDA Elkhart Lake Vintage Festival
- SVRA Watkins Glen
---