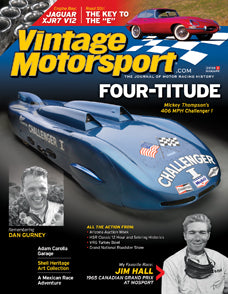 Vintage Motorsport Magazine
2018.2 Mar/Apr 2018
Regular price
$10.00
$0.00
Unit price
per
REMEMBERING DAN GURNEY
He had an unrelenting commitment to winning. He elevated our port and lifted our hearts.
---
SEBRING
By 1962 the Sebring 12 Hour Grand Prix of Endurance had become North America's premier endurance race. 
---
GOING LIKE SHELL!
The Shell Heritage Art Collection helps tell the story of the company's history in motorsport.
---
SOUTH OF THE BORDER, PART 1
A Mexican race promoter presented an interesting opportunity to race in Guadalajara.

 



---
ZANDVOORT TRACK HISTORY, PART 2
The circuit's possibilities seemed limitless but there would be obstacles both outside and inside the sport.

---
ROAD STIR - THE KEY TO THE "E"
Mark Larkin's 1964 Jaguar Series I E-Type still stops traffic after all these years.

---
THE ENGINE BAY - JAGUAR XJR7 V12
Group 44's Jaguar engine arsenal consisted of this 60-degree aluminum V12 producing 747 horsepower.
---
ALSO IN THIS ISSUE
- SALON: Mickey Thompson Challenger 1LSR
- My Favorite Race: Jim Hall and the 1965 Canadian Grand Prix at Mosport
- Plan B: Bob Bondurant Racing School 50th Anniversary
- Great Vintage Garages: Adam Carolla Garage
- Vintage Shop: CPR Classic

---
VINTAGE EVENTS
- HSR Classic 12 and Sebring Historics
- Grand National Roadster Show
- VRG Turkey Bowl
---