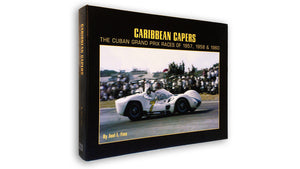 Vintage Motorsport Magazine
Caribbean Capers: The Cuban Grand Prix Races of 1957, 1958 & 1960
Regular price
$66.00
$0.00
Unit price
per
Caribbean Capers: The Cuban Grand Prix Races of 1957, 1958 & 1960, written by Joel Finn, is receiving rave reviews world over and was recently featured on the popular PBS television show MotorWeek, television's longest running automotive series, by the Emmy award-winning host, executive producer and creator John Davis.
The three Cuban Grand Prix races brought the excitement of the world's best sports cars to one of the world's most glamorous playgrounds. This is a compelling story, filled with unexpected twists and maneuverings. Author Joel Finn, who was one of the timing officials at the races in 1958, has gathered a riveting account from original correspondence and interviews with participants as well as rare records from the organizers.
More than 500 images of memorabilia and historic photographs of the cars, drivers and events — many never before published — as well as meticulously compiled charts of the race entries and race results ensure that this will remain the authoritative account of the events in Cuba during the Golden Age of sports car racing.
---