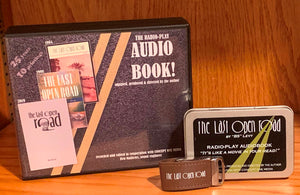 Vintage Motorsport Magazine
The Last Open Road Audiobook
Regular price
$55.00
$0.00
Unit price
per
From VM's award-winning motorsports journalist, notorious racecar ride mooch and World's Fastest Novelist "BS" Levy, a hilarious new audiobook version of his cult-classic novel about fast cars, first loves and the fondly remembered America of the fifties. Better yet, it's been re-imagined in the style of a 1950's radio play, complete with professional voice actors, sound effects, period music, authentic car and racing sounds (if it's supposed to be an MG TC, Cad-Allard, Cunningham C4R, Ferrari V12 or Jaguar C-Type, it is!) and MYSTERY CELEBRITY GUEST VOICES in many of the supporting roles! Including famous motoring personalities like David Hobbs, Brian Redman, Skip Barber, Ray Evernham, Tommy Kendall, Bill Warner, Patrick Long, John Morton, Marino Franchitti, PD Cunningham, Mark Greene, Spencer Pumpelly, Bob McKee, Mark Hamilton Peters, Andy Reid, Greg Rickes and many more!
The Last Open Road audiobook is perfect for those long, cross-country drives and tows to favorite racetracks or car-show venues. What better traveling companions than 19-year-old, blue-collar New Jersey gas-station mechanic Buddy Palumbo (whom many reviewers have likened to Holden Caulfield in J.D. Salinger's iconic Catcher in the Rye) his car-hop girlfriend Julie Finzio, his streetwise friend and mentor Big Ed Baumstein and the rest of the gang from Finzio's Sinclair? And all of it set against the backdrop of the dangerous, glamorous, upper-crust and occasionally decadent world of open-road sports car racing in the Eisenhower fifties.
Now in its 25th year and 10th hardcover printing, The Last Open Road has received rave reviews in both the mainstream and motoring press along with incredible word-of-mouth support in the vintage motorsport and collector-car communities. It's also been used in high school and college-level English classes and is on the recommended reading lists at many libraries, schools and book clubs.
The audiobook runs 20 hours in all, comes with a FREE bonus video file and is available as a 20-disc CD set at $65.oo as a leather-clad USB flash drive for $55.oo. Shipping within the US is $6.50 either way or $17.50 for overseas deliveries.
---